Apple Pay is Apple's new mobile payment service, which lets iPhone 6, 6 Plus, iPad and Apple Watch users in the U.S. make payments with their devices using NFC. Customers can make one-tap purchases both in stores and within participating apps, thanks to the NFC chip built into these Apple devices.
Apple Pay's success in the U.S.
Although Apple Pay has only been available since October 20 (through an update to iOS 8.1), it seems to be having success among American iPhone users: the system had more than 1 million credit and debit card activations during the first 72 hours after its release.
Apple Pay lets you use your Apple devices to pay in around 200.000 locations accepting contactless payments. Partners include Macy's, Bloomingdales, Walgreens, Subway, McDonald's, Whole Foods and Disney, with more stores and apps to come. Although Apple Pay is very new, it will work anywhere NFC-based contactless payments are accepted, and its aim is to replace wallets and credit cards by single touch payments.
Apple Pay doubled transactions at Walgreens, and accounted for more than 50 percent of tap-to-pay purchases at McDonald's. The paying system works with the major credit and debit cards, including Visa, MasterCard and American Express, and it has partnered with top U.S. banks as Bank of America, Capital One, Chase, Citi, American Express and Wells Fargo.
What's new?
Initially, Apple Pay may not seem more useful than swiping a credit card, because although sometimes it's an easy one-step process, a PIN is still required occasionally. But on the other hand, it's more secure than a traditional credit card, because with Apple Pay, cashiers won't see any of your personal information.
In addition, you will have everything on the palm of your hand, and you won't need to look for your credit card. And thanks to skin contact, Touch ID and Find My iPhone, your payments are totally personal and secure.
Apple Pay works with Passbook, so to add a credit card into the system you can either take a picture of your card or enter its details manually. You can register up to eight cards in Apple Pay. Once a card is verified and added to Passbook, it becomes immediately available for purchases both in stores and apps.
When you're ready to pay in a store, there's no need to open any app: you just have to approach a NFC terminal compatible with Apple Pay. Then, the screen of your device opens Passbook automatically, where you can tap on the credit card you want to use. The payment is made by holding your Apple device near the contactless reader with your finger on Touch ID. The finger registered with Touch ID must be kept on the home button for a short time, after which a payment is authenticated and the transaction is completed. When the payment is completed, your device slightly vibrates, a check mark appears on the screen and it beeps.
About Apple Watch, Apple indicates that from early 2015 you'll simply have to double click the button next to the Digital Crown and hold the face of your Apple Watch near the contactless reader. A gentle pulse and beep will confirm that your payment information was sent.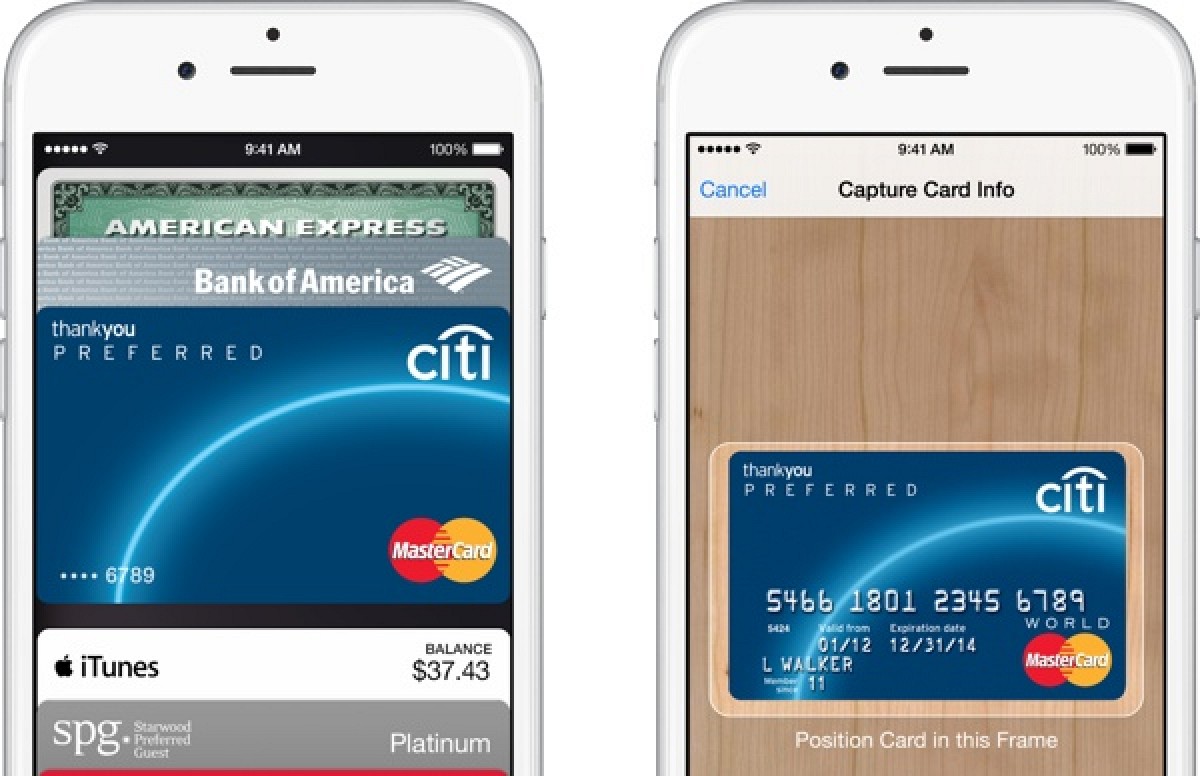 Is Apple Pay secure?
Apple promises the most simple, secure, and private way to purchase, so it proposes unique security features. In fact, everything points out that Apple Pay is more secure than any other payment method.
First of all, Apple uses tokenization to keep transactions safe. This means that when a credit or debit card is scanned into Passbook, a unique Device Account Number or token it's assigned and encrypted, which is stored in the phone rather than an actual card number. When a transaction is made, the Device Account Number is sent via NFC, along with a one time dynamic security code unique to each transaction, both of which are used to verify a successful payment. The dynamic security code is a one-time use cryptogram that replaces the credit card's CCV and is used to ensure that a transaction is being conducted from the device containing the Device Account Number.
Secondly, Apple doesn't store the details of your transactions, so your purchases are kept private. Credit card numbers and data are never uploaded to iCloud or Apple's servers, so your card numbers are never shared by Apple with merchants or transmitted with payment.
Third, if your Apple device is lost or stolen, you can use Find My iPhone to put your device in Lost Mode to suspend Apple Pay, or you can wipe your device clean completely, so you don't have to cancel all your credit cards.
And finally, since you don't have to show your card, ID or driving license to the cashier, you never reveal any personal data when you pay in stores.
Apple also secures payments using Touch ID and skin contact with the Apple Watch. With the Apple Watch, authentication will be made through skin contact, so you can just pay when the watch is on your wrist, and you'll also have to enter a passcode.
Apple's commissions
According to rumours, Apple collects a fee of 0.15% of each purchase from banks each time consumers use Apple Pay (so the company earns 15 cents from every $100 purchase). It also seems that Apple has signed different deals with each bank.
Also, some banks and credit cards have begun offering promotions and incentives to encourage users to use Apple Pay. For example, Wells Fargo offers $10 to its debit card customers and $20 to its credit card customers who make a purchase with Apple Pay, and MasterCard has partnered with singer Gwen Stefani to offer customers special gifts, such as private concerts. Allegedly, Apple will take advantage of iBeacons and Bluetooth LE to deliver targeted ads and discounts to consumers as they shop. So as you are buying something, you can receive a push notification and purchase the good with a "tap-to-buy" button.
Apple Pay vs. Google Wallet
Google Wallet, Google's NFC payment system, was launched a couple of years ago, but the truth is it hasn't had much promotion from the company. However, hundreds of thousands of locations accept Google Wallet payments already.
There are not a lot of differences between Google Wallet and Apple Pay; the setup is basically the same: like with Apple Pay, on Google Wallet you can also scan your card to add it to the system. To pay, you have to make sure that the NFC radio is enabled on your Android device (while in Apple NFC is always turned on). Then, you have to unlock your device, if you have it locked, and tap it on the payment terminal. In the case of Apple Pay, you must remember to place your finger on Touch ID. In both systems, a summary receipt appears on your Android or Apple device once the payment is made. Both Apple Pay and Google Wallet support loyalty and gift cards, and Google Wallet also tracks your online purchases.
Users assure that, with Google Wallet, transactions are quick and easy. Apple Pay is quite new and it still needs to improve some details, so for the moment Google's option seems to be working more accurately.